IT service (Item ID: 10056)
IT Managed Service
Umbrella iT provides an array of essential IT Management Task on a flat rate subscription basis to small and medium sized businesses. Thru our outsourcing iT Management Solutions, we can dramatically lower down your operating costs by allowing you to have your own IT Department for a fraction of a single technical staff's salary. Our solution also provides a complete line of complimentary services to your existing infrastructure through auditing, planning, re-design and development. We can help maximize the utilization of your IT systems thus enhancing your company's efficiency and productivity.
For a fraction of the cost of hiring a single staff, your organization is now backed up by a very competent team of technical experts that will serve as your IT Department. Whether you already have some technical expertise on staff or not, we provide whatever expertise you need but don't have.
On-Call IT Support
During weekly/biweekly prescheduled on-site and remote support, we take on responsibility for proactive management of your system. Our approach is proven to save clients money by preventing problems before they occur.
Outsource IT Support
Umbrella IT Round-the-clock IT management allows us to exceed the availability of even a full-time onsite IT team. Through our proprietary system, we can actually identify and resolve IT issues before they affect your business, day or night.
In-House IT Support
The personnel will take an action immediately once an error exists. This solution is very reliable in all because it can fixed all the error that even solution via remote can't fix immediately. We have personnel to visit and stay in your office everyday during your office hours to manage and fixed all the errors regarding in your IT system.


---

Our biggest satisfaction is getting you and your systems up and running in no time. So, if you have a problem and don't know who to contact.Contact us today, you will be glad you did !


---
Like Us on Facebook-->https://www.facebook.com/UmbrellaIT

Contact Details:(look for Hannah Jane)
Mobile No: 09194213242 / 09055725371
Landline: 438-00-69
Email: [email protected]
Website: http://www.umbrellait.com.ph/index.php
Skype: hanzon26

Umbrella IT Service Provider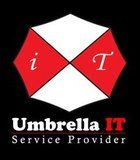 ---
Published date:
April 7, 2015 5:43 am
Expiration date:
December 31, 9999
Address:
135 B Kalantiaw St. Project 4, Quezon City
Show on map
Avoid scams by asking for more details from the advertiser if needed, then verifying them afterwards (using Google, etc)
Transact face-to-face (cash on delivery) whenever possible to see the actual product before paying
Never pay via Western Union, Moneygram or other anonymous (no recipient account) payment services
Don't buy or sell outside of your country. Don't accept cashier cheques from outside your country
Avoid doing financial transactions online (online banking, PayPal/credit card payments, etc) while using public computers or networks (internet shops, airport, etc)
This site is never involved in any transaction, and does not handle payments, shipping, guarantee transactions, provide escrow services, or offer "buyer protection" or "seller certification"
Do you think this ad is a fraud, spam or violates Claseek terms and conditions? Please
report it to us
, we would appreciate your feedback.
Note: Claseek.com is NOT associated in any way with the advertiser and the ad advertised here. All items are posted entirely independent from this site, therefore your vigilance is absolutely necessary.